Short-term political risk: Azerbaijan, Eswatini and Mauritania upgraded; Anguilla and Sri Lanka downgraded
In the framework of its regular review of short-term (ST) political risk classifications, Credendo has upgraded 3 countries (Azerbaijan, Eswatini and Mauritania) and downgraded 4 countries (Anguilla, Montserrat, Saint Kitts and Nevis and Sri Lanka).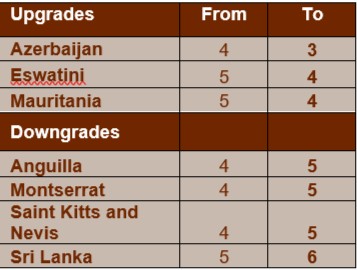 Azerbaijan: upgrade from 4/7 to 3/7
Last year, Credendo downgraded the short-term political risk classification of Azerbaijan to category 4/7 (from 3/7) amid a sharp deterioration of the situation in Nagorno-Karabakh. The tension escalated into an open and armed conflict of 6 weeks that ended with the signature of a ceasefire agreement on 9 November 2020. The Russian-brokered agreement confirms the military victory of Azerbaijan. Indeed, according to the agreement, the part of Nagorno-Karabakh seized by Azerbaijan during the conflict remains under its control. Moreover, Azerbaijan regains the control of seven territories surrounding Nagorno-Karabakh that were previously controlled by Armenia. As no major confrontations have been witnessed since the signature of the ceasefire agreement and as Azerbaijan's liquidity remains good, Credendo decided to upgrade the country's short-term political risk classification to category 3/7, its pre-conflict level.
Mauritania: upgrade from 5/7 to 4/7
The Covid-19 pandemic has had a significant impact on Mauritania, leading to a 2% economic contraction in 2020 and significant financing needs. International support and debt service suspension provided fiscal space for emergency spending. Yet, over the course of the year, a jump in commodity exports unexpectedly resulted in a 2020 fiscal surplus. Strong gold prices and the sharp recovery in iron ore prices since mid-2020, led to a jump in export revenues. Consequently, foreign exchange reserves levels increased up to USD 1.5 billion (4.8 months of import cover) by December 2020, a record high. These benefits are set to support the 2021-2022 recovery, with real GDP growth expectations at 3.1% and 5.6% respectively. However, the volatile nature of commodity markets is an important vulnerability and risk to the country's projections. With liquidity indicators at record levels, Credendo decided to upgrade Mauritania's short-term political risk classification from 5/7 to 4/7.
Sri Lanka: downgrade from 5/7 to 6/7
The economy has been hit hard by the Covid-19 pandemic, particularly through the weak external demand, tourism freeze and contracting workers' remittances. As a result, the current account deficit widened in 2020, thereby raising external financing needs. The situation is made more difficult by depreciating pressures on the rupee – slowed down by Central Bank's interventions – and challenging debt servicing with probably no market access this year. Even though China (and to a lesser extent India) is coming to Sri Lanka's financing rescue and some debt restructuring continues to be discussed with Beijing, the latest developments show that foreign exchange reserves might remain under pressure in the coming months amid a prolonged Covid-19 impact and high external debt repayments. Hence, with foreign exchange reserves covering about 2 months of imports in January and a fragile recovery expected in the coming months, Credendo decided to downgrade the country's short-term political risk classification to 6/7.